New 2017 Shipping rates take effect as the year begins. All major shipping carriers: USPS, FedEx, and UPS are increasing their 2017 postage prices.
Take advantage of VIPparcel 2017 shipping rates overview to stay on top of your business shipping budget.
The price hike will have a noticeable impact on shipping expenses for small business owners, online retailers, and fulfillment centers. Therefore, it is important to understand how new rates apply specifically to your business.
Review 2017 postage rates, determine best prices, reconsider shipping options, update your shipping policies and adjust your business strategies to secure your profits.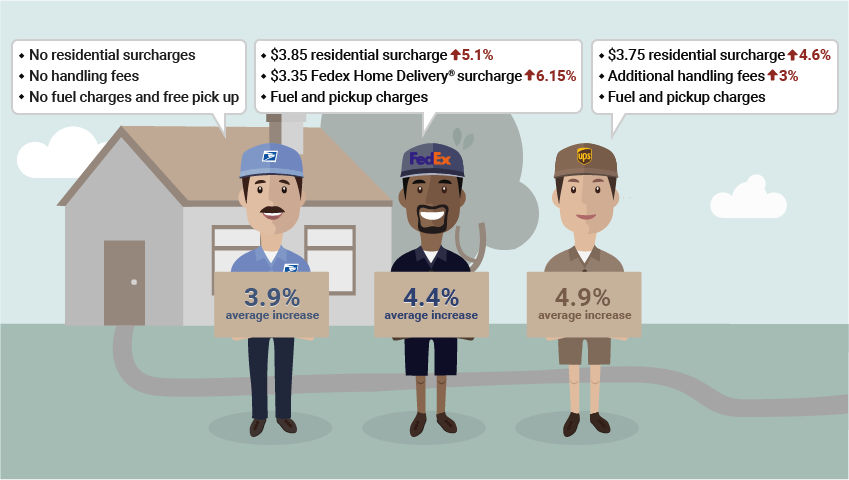 USPS
The U.S. Postal Service will increase prices on its domestic shipping rates by an average of 3.9%. The changes will affect shipping rates for USPS Priority Mail®, USPS First Class Package®, USPS Priority Flat Rate, and USPS Priority Regional Rate, and others USPS shipping services. The new prices will take effect on January 22, 2017.
Domestic Shipping Services Price Changes
Priority Mail Express® increase on average by 3.4%
Priority Mail® increase on average by 3.9%
First Class Mail® increase from $0.47 to $0.49
First Class Package® increase on average by 4.1%
Parcel Select Ground® increase on average by 2.7%
Library Mail and Media Mail®  increase on average by 1.135%
However, the International Mail Services such as USPS First Class Package International®, USPS Priority Mail International®, and USPS Priority Mail Express International®, will stay at the same price, making the U.S. Postal Service be the preferred option for millions of customers to ship internationally.
FedEx
FedEx 2017 new rates took effect on January 2. Prices increased on average by 4.4% for FedEx Ground and Home Delivery shipping services, and 3.9% for FedEx Express.
Unlike USPS, FedEx separately calculates surcharges for a pickup service, residential deliveries, handling, and fuel. These surcharges have increased by:

  3% for additional handling fees
  

  5.1% for residential surcharge
 

  6.15% in Fedex Home Delivery® surcharge
Fuel surcharges will constantly be changing and adjusting throughout the year based on USGC spot price for a gallon of kerosene-type jet fuel.
The shipping rates and surcharges increase in 2017 make up a significantly higher shipping total price compared to the previous year.
Yet, the major FedEx prices change is in its "dimensional-weight" calculation formula. FedEx Express and FedEx Ground U.S. domestic shipments dimensional weight is now calculated as  L x W x H / 139, (previously L x W x H / 166). The new indicated pricing formula brings new FedEx prices 19% higher and does become a costly business expense that narrows profit margins for a small business owner.
UPS
UPS 2017 new rates, increased on average by 4.9%, came into effect on December 26, 2016.

  3% for additional handling fees
  

  4.6% for residential surcharge

Likewise FedEx, UPS fuel charges will be adjusted weekly corresponding to weekly gas pricing.
In 2016, UPS used to be the most expensive among three carriers. In 2017, UPS and FedEx retail rates for identical services differ only by a few cents. 
New 2017 Rates Case Study: Comparison Across Three Major Carriers
It is always easier to see the whole picture when there is a real-life example. Let's take a look at USPS, UPS, and FedEx shipping rates differences for similar shipping services.
As an example, we examined a small warehouse, located in New York City. The warehouse ships items various by size and weight.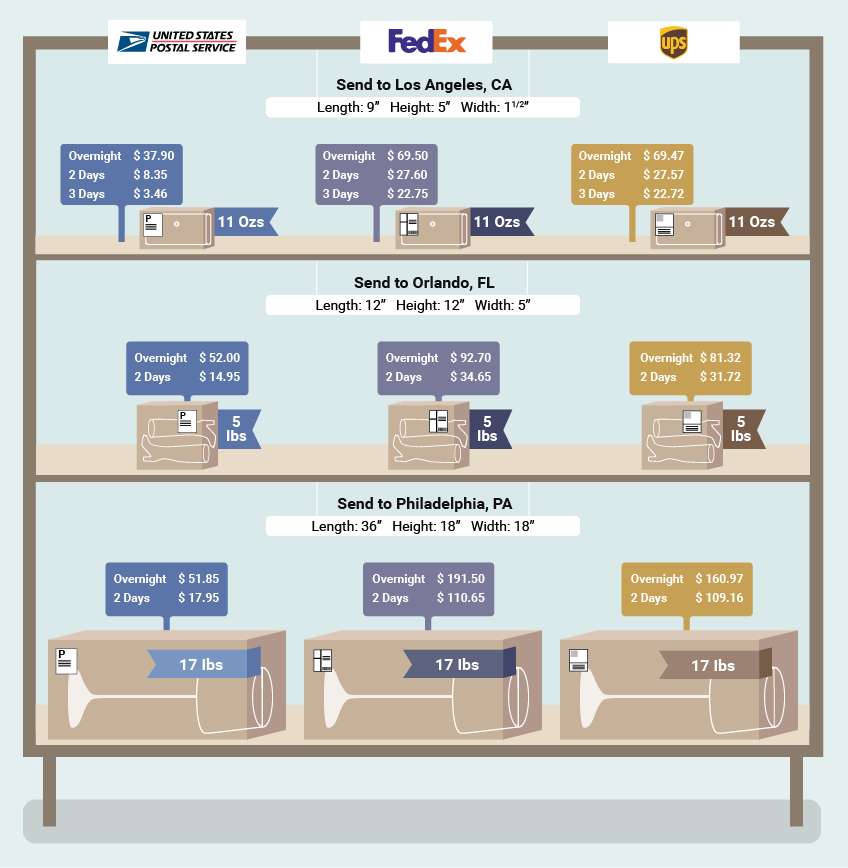 Case details:

  Shipping for three different items: a wallet, a pair of boots, and a lamp:
      

  Products box sizes: 9 x 5 x 11/2, 12 x 12 x 5, and 36 x 18 x 18, correspondingly.
      

  Weight: 11 ozs, 5 lbs, and 17 lbs, respectively.
      

  Shipping from New York to: Los Angeles, CA, Orlando, FL, and Philadelphia, PA, accordingly.



  Shipping Services were determined by delivery times:
      

  3-Days (only for a small package): First Class Package®, FedEx Express Saver®, and UPS 3 Day Select®
      

  2-Days: Priority Mail®, FedEx 2Day®, and UPS 2nd Day Air®
      

 Overnight: Priority Mail Express®, FedEx Priority Overnight®, and UPS Next Day Air ®

  Priсe calculations based on:
      

  USPS Retail Pricing
      

  FedEx Standard List Base Rates   
      

  UPS Daily Rates
Rates Summary:



---
Either you send a large box locally, or a small package from one coast to another, USPS prices are significantly lower than FedEx and UPS rates. The defined difference is indicated in the example of shipping a lamp (large box 36 x 18 x 18) due to dimensional weight calculations. In spite of an actual weight of 17 lbs, FedEx and UPS apply the dimensional weight of 71 lbs, which brings up a more expensive price.
Note that the prices provided in the case are Base rates, meaning they do not include any UPS or FedEx surcharges. Meanwhile, USPS services are free of those fees. Typically, UPS or FedEx total shipment cost is around $10 higher when the surcharges add up.

The U.S. Postal Office is definitely the CHEAPEST shipping solution for a small business owner. USPS has been focusing on providing small businesses with fast, reliable, and affordable shipping.
It is no brainer that USPS is the most efficient shipping carrier to send lightweight items up to 1 lbs. First-Class Package is the cheapest shipping service available on the market. USPS First-Class Package allows ecommerce sellers offer free shipping for their customers without hurting the budget.
In 2017, USPS First-Class Package continues to be one of a favorable shipping option for small items. Packages from 1 to 4 ounces conveniently cost the same - $2.61, and from 5 to 8 ounces - $2.77. It makes First-Class Package be the preffered shipping option for many online retailers who sell small goods like electronics, jewelry, phone cases, wallets, and books. 

In general, 2017 USPS rates increases are modest, which allows eCommerce runners, retailers, and other small business owners take advantage of fast and cheap shipping via Priority Mail and Priority Mail Express Services.
USPS Priority Mail is an economical alternative for fast and secure shipping. A significant advantage of USPS Priority Mail is 2-3 day expedited services on a budget to ship items domestically. USPS Priority Mail reasonable pricing also includes $50 shipment insurance and detailed tracking. 
One other USPS Priority Mail perk is that USPS delivers packages on Saturdays at no cost, when FedEx and UPS charge additional $16 for Saturday delivery service. 
Small business owners such as online retailers take advantage of Priority Mail Service, particularly when it comes to shipping most commonly online-sold goods such as clothes, shoes, bags, and electronics. Consequently, buyers can track their shipments and receive an order quickly, leaving positive feedback on a seller profile.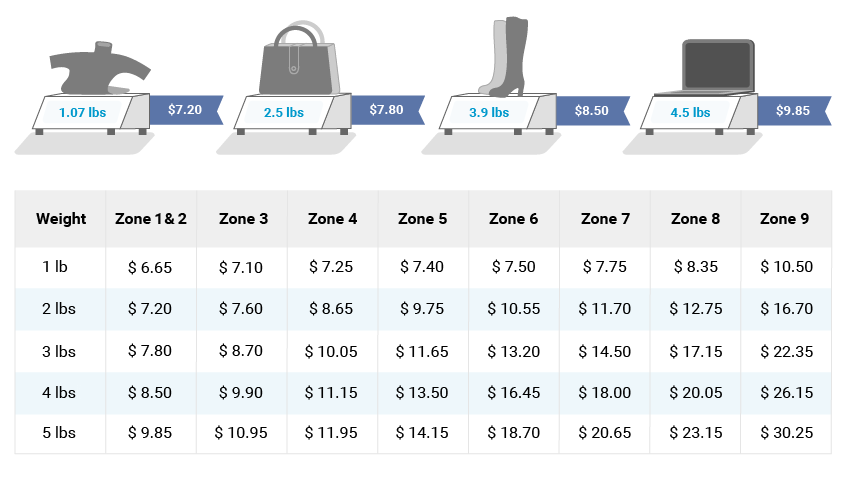 Plan 2017 Shipping Strategy:

  Analyze your 2016 shipping patterns such as shipments weight, distinations, and service used.
   

  Compare your 2016 most common shipping methods rates with new 2017 rates.
   

  Determine your shipping changes such as switching carriers or services.
    

  Look for additional shipping discounts
Ways to save:

  No matter what your shipping volume is, save your business more money with extra USPS discounts provided through VIPparcel. It is easy to calculate the USPS shipping costs, purchase and print discounted labels, and manage and track your shipments.

   Expand your business internationally by shipping with USPS International Services. VIPparcel provides significant rates for international shippers. You can save up to 20% on USPS International shipping rates via VIPparcel.

   Negotiate discounts with FedEx and UPS if you ship a lot of heavy packages domestically. Both carriers offer shipping savings based on your business shipping volume, an association membership, or an online market place such as Ebay. 
Posted on January 12, 2017
---
Share