Any business always aims to get more work done and improve productivity. At VIPparcel, we know how to increase operational efficiency when it comes to the shipping process.
VIPparcel is a pioneer in shipping solution to introduce a multi-layers account hierarchy with a new enterprise feature "Sub-Account Management."  The extension is a useful tool in managing USPS postage printing for a number of facilities under one module.
It enables a primary account administrator to control all shipping process by accessing sub-accounts data, viewing consolidated reports, and managing accounts billing.
Let's see how it works: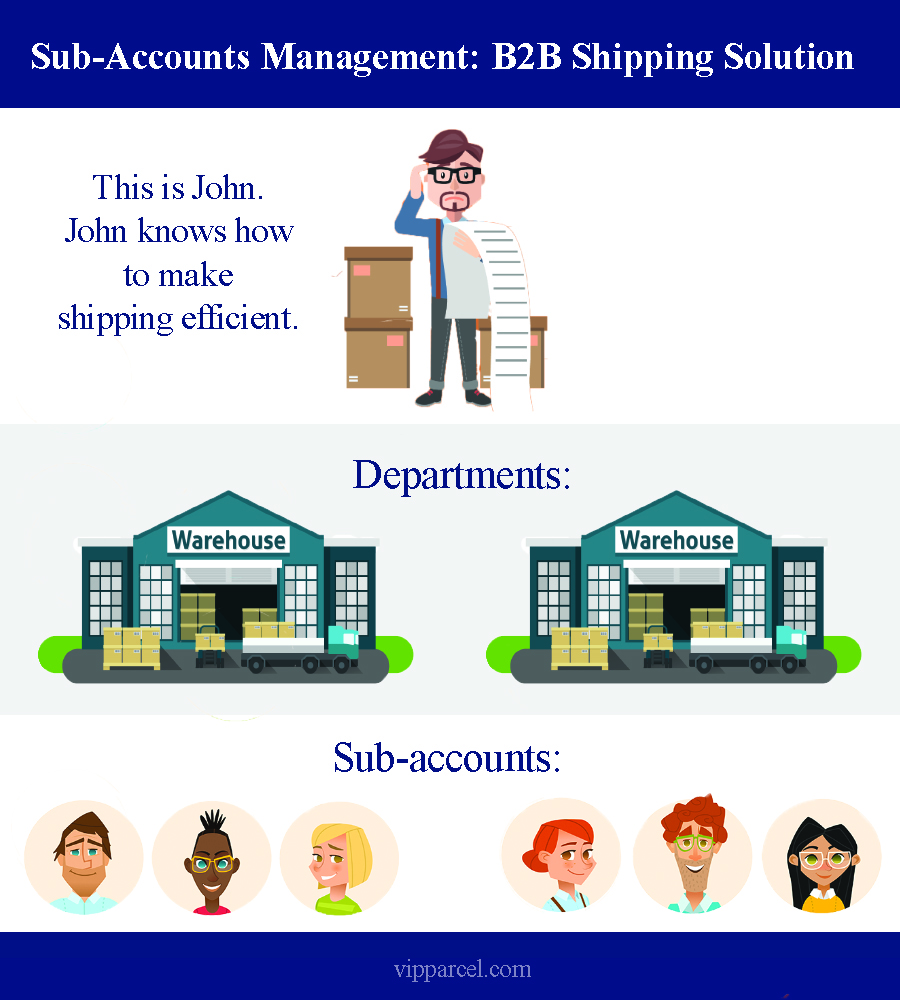 Meet John. John is a Director of Operations in a distribution center that specializes in international shipping.
The company has two warehouses with three warehouse coordinators in each and sends hundreds of packages every day.
John needed an online shipping solution that allowed him to control all the shipping expenses, but only gave each warehouse coordinator access to postage printing.
Luckily, John found VIPparcel. He created aт account for the distribution center, added funds, and then clicked on the tab "Departments" to set up the company's logistics hierarchy.
1. John listed the company's department as Warehouse #1 and Warehouse #2.
2. He created six sub-accounts with individually assigned usernames and passwords.
3. Warehouse coordinators received emails: one from VIPparcel with personal login information, and another from John with instructions on how to print USPS postage online.
VIPparcel shipping solution optimized John's work day. Now, he can monitor employees productivity better as he receives weekly reports on each sub-account shipping volume and expenses. John has secured all sub-accounts and the parent account with Two-Factors Authentication to guarantee that only approved personnel access to their individual accounts.
John noticed that he has been less stressed about administrating shipping billing because now he had full control over the budget. Once, John deposits funds into the primary account; he, then, can instantly distribute it to sub-accounts when needed. The company has also gained more profit as VIPparcel offered up to 20% discounts on USPS international shipping.
Posted on October 26, 2016
---
Share